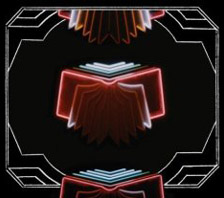 Over the past few years Canada has become
the
hot bed of indie rock talent. Bands like The New Pornographers, Wolf Parade, Broken Social Scene, Feist and Final Fantasy all hail from Canada and are among the most critically acclaimed groups in music today.
But the most popular members of the Canadian brotherhood of indie have to be Arcade Fire. Arcade Fire's 2004 release, "Funeral", appeared near the top of many "best of" lists, despite fairly modest sales. After almost two and a half years of waiting, Arcade Fire have finally released their highly anticipated follow-up to "Funeral", titled "Neon Bible."
As the name suggests, "Neon Bible" has a heavy religious theme running through it. But instead of coming off as preachy or cliché, the band manages to convey its message in a subtle and creative way. Never shying away from heavy subject matter, Arcade Fire also tackle the war in Iraq, poverty and the problems with society today in general.
"Black Mirror" kicks off the album and gets right into that heavy subject matter. With the final lines – "Mirror, mirror on the wall, show me where the bombs will fall" "Black Mirror" gives a grim view into the future. But what Arcade Fire does best is balance dark topics with lighter music. "Black Mirror" starts off with droning lyrics and soft piano, but slowly builds to its climax with increasingly loud strings, pounding drums and screaming vocals.
"Intervention" is one of the strongest tracks on the album and showcases Arcade Fire's knack for unusual instrumental arrangements. The song starts off with an organ pound, followed by acoustic guitar and then a pinch of triangle, all of which are sustained throughout the song. Win Butler's vocals get more and more passionate as "Intervention" goes on until he belts out the chorus one last time – "Working for the church while your life falls apart. Singing hallelujah with the fear in your heart. Every spark of friendship and love will die without a home."
The most uplifting and upbeat track on "Neon Bible" is "No Cars Go". Sung by Butler and his wife/band mate, Regine Chassagne, the song tells of an imaginary Utopian society where "no cars go." This song features a beautiful accordion part as well as some great up-tempo drumming. But the beauty of this song lies in its simplicity. The lyrics consist mostly of "no cars go" and emphatic "heys!" and really resonates when Butler and Chassagne sing with almost no music backing their voices near the songs apex.
"Neon Bible" is not without a few minor duds though. The title track is repetitive and seems out of place. Same goes for "My Body is a Cage", a slow crawling piece that only picks up about halfway through.
"Funeral" was widely considered a modern masterpiece - it is foolish to think that Arcade Fire could replicate that emotion and flawless songwriting on "Neon Bible". That being said, "Neon Bible" is in no way a disappointment. It is poignant, full of depth and covers a broad range of sounds in its 11 tracks. It wouldn't be a surprise to see "Neon Bible" atop quite a few "best of" lists when 2007 is over.